Bollywood actress
Kangana Ranaut
took to her Twitter handle to voice her opinion as Canada PM
Justin Trudeau
defends
free speech
. Her tweets went on to read, "Dear Justin,we don't live in an ideal world,people mustn't but everyday they are breaking signal,doing drugs,molesting others,hurting sentiments.If every petty crime's punishment is beheading each other then why we need a Prime Minister or any law n order?"

She asked Justin Trudeau to answer her response quoting her previous statement.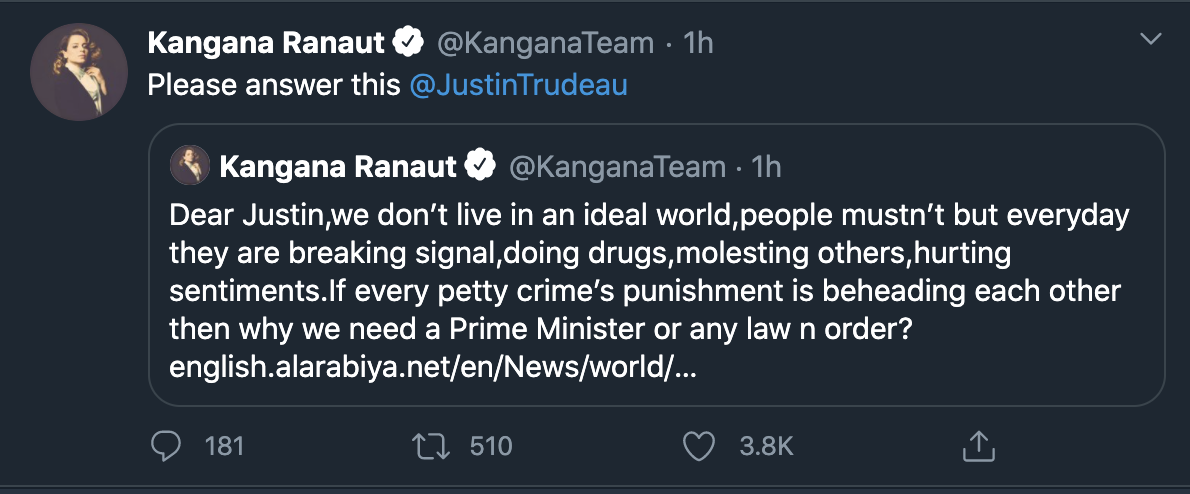 She then went on to add, "Anybody makes cartoons on Ram, Krishan, Maa Durga or any God for that matter Allah, Christ, must be punished if they do it at work place or social media suspend them, if they disrespect openly send them to jail for 6 months, that's all, people have a right to be atheist… cont."

She concluded by putting out another strong worded statement which went on to read, I can choose not to believe in your God, that's fine, it's not a crime, I can express how I don't agree with your religion, yes !! that's freedom of expression, learn to live with my voice, you have learnt to slit my throat cause you have no answers to my questions, ask yourself".